The Adtigo Group, LLC is an organizational advisory practice that combines data-based change tools and methodologies to help organizations renew, transform, and lead.  We engage all levels of an organization from day one, building momentum and knowledge sharing to sustain our clients' success.
We are committed to:
Understanding your organization's culture and capitalizing on internal strengths
Customizing approaches to address your organization's requirements
Providing a high return on investment
Being flexible, responsive, organized, proactive, and positive
Our collaborative approach focuses on understanding our clients' expressed and unspoken needs.  We work with clients to ensure they have considered a full range of viable solutions, understand the implications of each alternative, and are empowered to make informed decisions to achieve breakthrough results not constrained by previous expectations.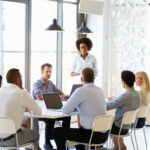 By aligning design thinking with business strategy, we help teams work at their fullest potential.  Our goal is to help clients plan and visualize their future state, not just solve their current challenges.  As a strategic partner, the Adtigo Group will help build your continuous improvement capability to develop innovative products, services, and organizations.

Vikki Lassiter, Founder & Principal
Vikki Lassiter has over 18 years of experience building and scaling innovative organizations, leading highly effective and talented teams, and driving strategy and
planning across complex programs. As an organizational development practitioner, Vikki works with leaders and organizations to strengthen knowledge sharing, organizational learning, and continuous improvement around organizational impact.
She has held both executive management and consulting roles in matrix organizations where she has led business development, change management, community-partnered research, and people strategy.  Prior to launching the Adtigo Group, Vikki served for eight years as the first executive director for the African American Collaborative Obesity Research Network currently based at the Dornsife School of Public Health.  In this role, she led a national interdisciplinary leadership team in developing research, public policy recommendations, and community‐centered approaches to address obesity-related health disparities. Passionate about fostering connections to advance health equity, Vikki continues to be a part of social movements in health.
Vikki earned a Master's degree in Organizational Dynamics from the University of Pennsylvania, a certificate in European Approaches to Organisational Development, Change, and Coaching from i‐coach academy in London, United Kingdom and a Bachelor's degree in Psychology from the Pennsylvania State University.